We offer paddleboard & kayak rentals and sea kayak tours at Crescent Beach State Park.
For info our main site in Portland, which is open daily, click here.
Enter the park for free! If you make an online reservation with Portland Paddle the entrance fee to enter the park (normally $8 per person) is included. Just show your reservation at the gate and you won't have to pay.
KAYAK & paddleboard RENTALS
The waters along Crescent Beach provide a wonderful environment for a paddle! You'll view the gorgeous coastline from a completely new perspective, get some exercise and glide across the protected waters near the beach looking out for seabirds and seals.

PLEASE NOTE: Maine's coastal waters are cold year-round and feature swift currents, boat traffic and rapidly changing conditions. You are responsible for your own safety when renting.
Stand-Up Paddleboard Rates
1 hour: $25
2 hours: $30
3 hours $35
Full Day $55
One week $195
Kayak Rental Rates
We require most kayakers to stay in the cove adjacent to Crescent Beach State Park. Experienced sea kayakers may roam further, potentially heading to the much more exposed waters along Richmond Island. We have limited kayaks available, so reservations are encouraged. You can choose between tandem (2-person) kayaks and solo kayaks.
Solo Kayak 1-hour: $25
Tandem Kayak 1-hour: $35
Solo Kayak 2-hours: $30
Tandem Kayak 2-hours: $45
Solo Kayak Half-Day: $40
Tandem Kayak Half-Day: $55
Solo Kayak Full-Day: $55
Tandem Kayak Full-Day: $70
operating hours
Friday - Sunday
10:00 AM - 4:00 PM
July & August
AGE LIMITS
Children ages 7 and up can kayak with Portland Paddle. Ages 7 through 12 should be in a tandem kayak with an adult. Children 10 and up can SUP with an adult. Staff may increase these age limits due to weather and sea conditions.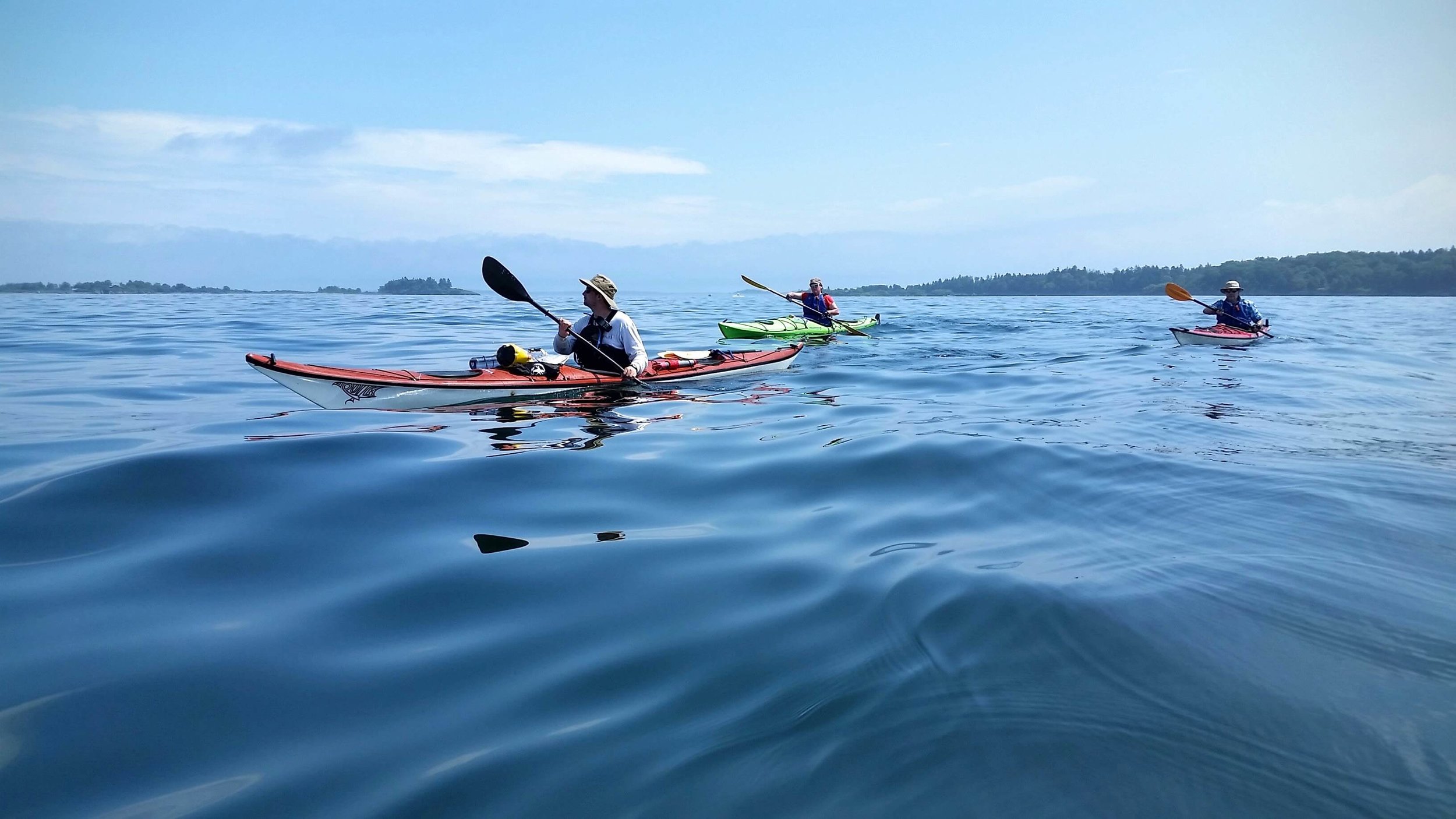 Crescent Beach Half-Day Kayak Tour
$65 per person, $55 for kids 12-16
11:00 AM - 2:30 PM
Saturdays or by request, Tours start July 1
The waters off Crescent Beach offer the perfect environment for sea kayaking. On this 4-hour tour we paddle along the coast towards Two Lights State Park and then cross open waters to reach the shores of Richmond Island. We'll paddle along the shoreline and then back to Crescent Beach taking a different route, looking out for seals, working lobstermen, seabirds and diving osprey. This is a trip suitable for all skill levels. Your guide will begin your trip with a brief sea kayaking lesson and provide you with a kayak well-suited to your experience level and body type.
Tour Highlights
Paddling along the edge of the open ocean towards the rugged shores of Richmond Island or the lighthouses of Two Lights State Park

Spotting wildlife like seals, ospreys and all sorts of seabirds.

Free entry to Crescent Beach State Park; stick around after your tour to enjoy one of Maine's most gorgeous beaches.