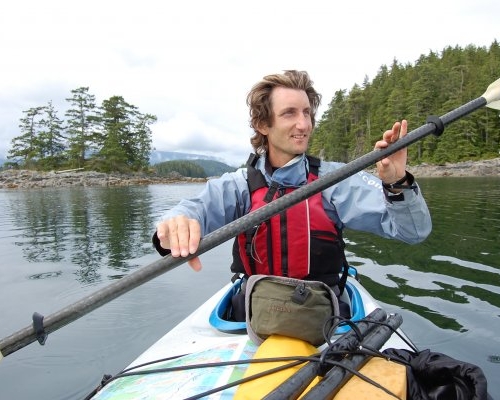 Zack, owner and co-founder of Portland Paddle, is a Maine native who lives on Munjoy Hill a few blocks from the East End Beach. He's been paddling on whitewater and the ocean since he was 11. During his 17 years as a guide, Zack has led countless kayaking and canoeing trips throughout the coast of Maine, and in Mexico, British Columbia, Ontario and Alaska. He is a master Maine Guide, an ACA Level 4 kayaking instructor and a Wilderness First Responder. When Zack isn't running Portland Paddle, he's a journalist, writer and teacher.
Erin, Portland Paddle co-founder and guide, grew up exploring New Hampshire's waterways by canoe and kayak. Currently membership manager for the Maine Island Trail Association, she has also worked for another long-distance water trail, the Northern Forest Canoe Trail. Learn more about Erin's conservation work at kingfisherconservation.com. Erin is a Wilderness First Responder, a Registered Maine Guide, and an ACA-certified instructor.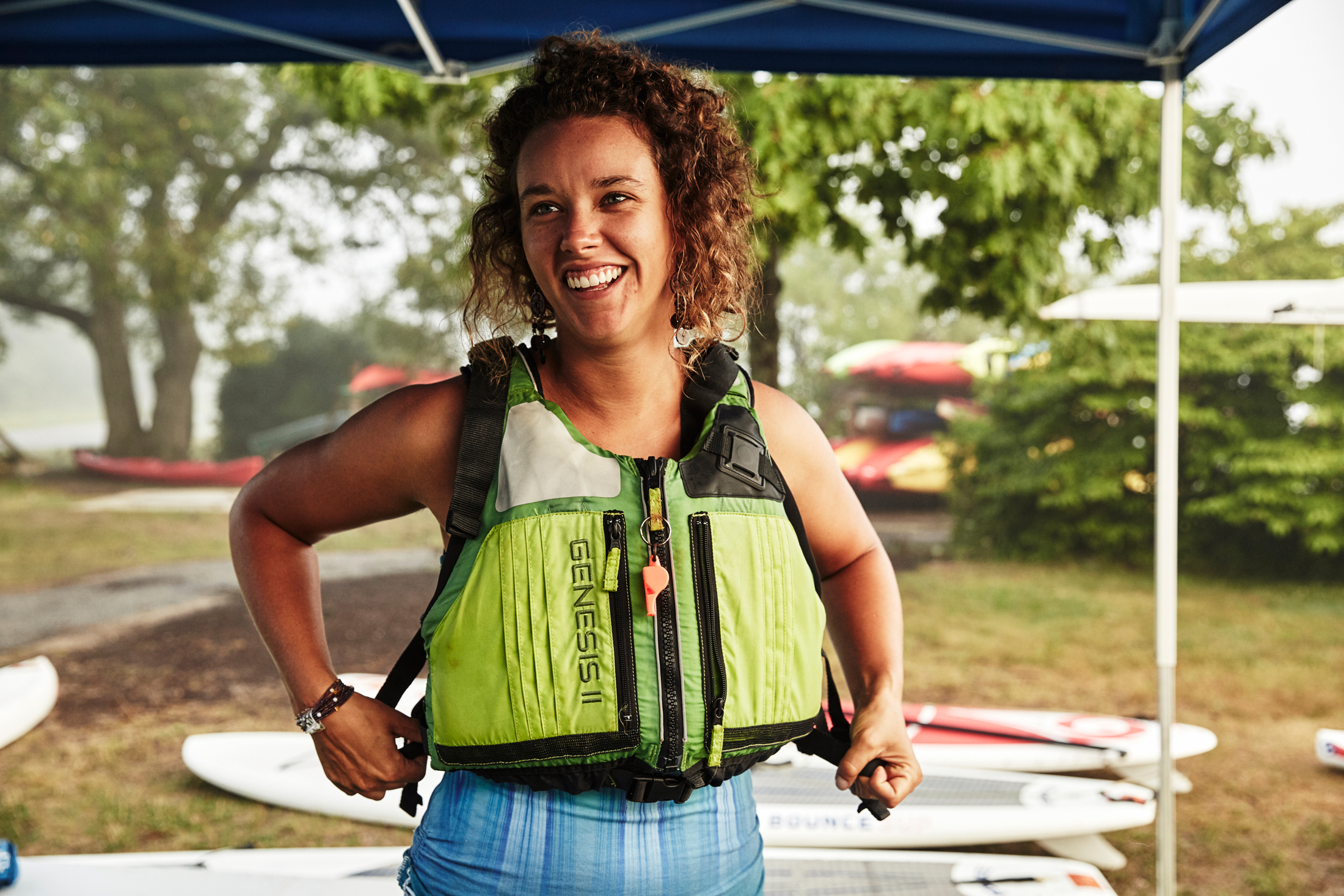 Ashley is a Yoga Instructor, Environmental Educator, Entrepreneur and life-long lover of the water! She is a licensed Maine Guide and an ACA-certified SUP instructor. Ashley has been helping people connect with nature and with themselves for over a decade and looks forward to sharing her love of yoga, SUP, and Casco Bay with you! If you can't pack in enough paddleboading this summer check out Ashley's winter indoor paddleboard yoga classes at ashleyfloweryoga.com
Matt is an ACA-certified SUP Instructor Trainer who grew up in New England and got immediately hooked on paddle sports after trying out sea kayaking. He eventually transitioned from kayaking and canoeing to standup paddling as his paddle sport of choice. Today he's on a board as much as possible -- training on flat water, upwind, downwind, surfing, exploring, running whitewater, leading trips and coaching. Matt is currently Events Coordinator for Teens to Trails. Matt is also a level 4 coastal kayak instructor.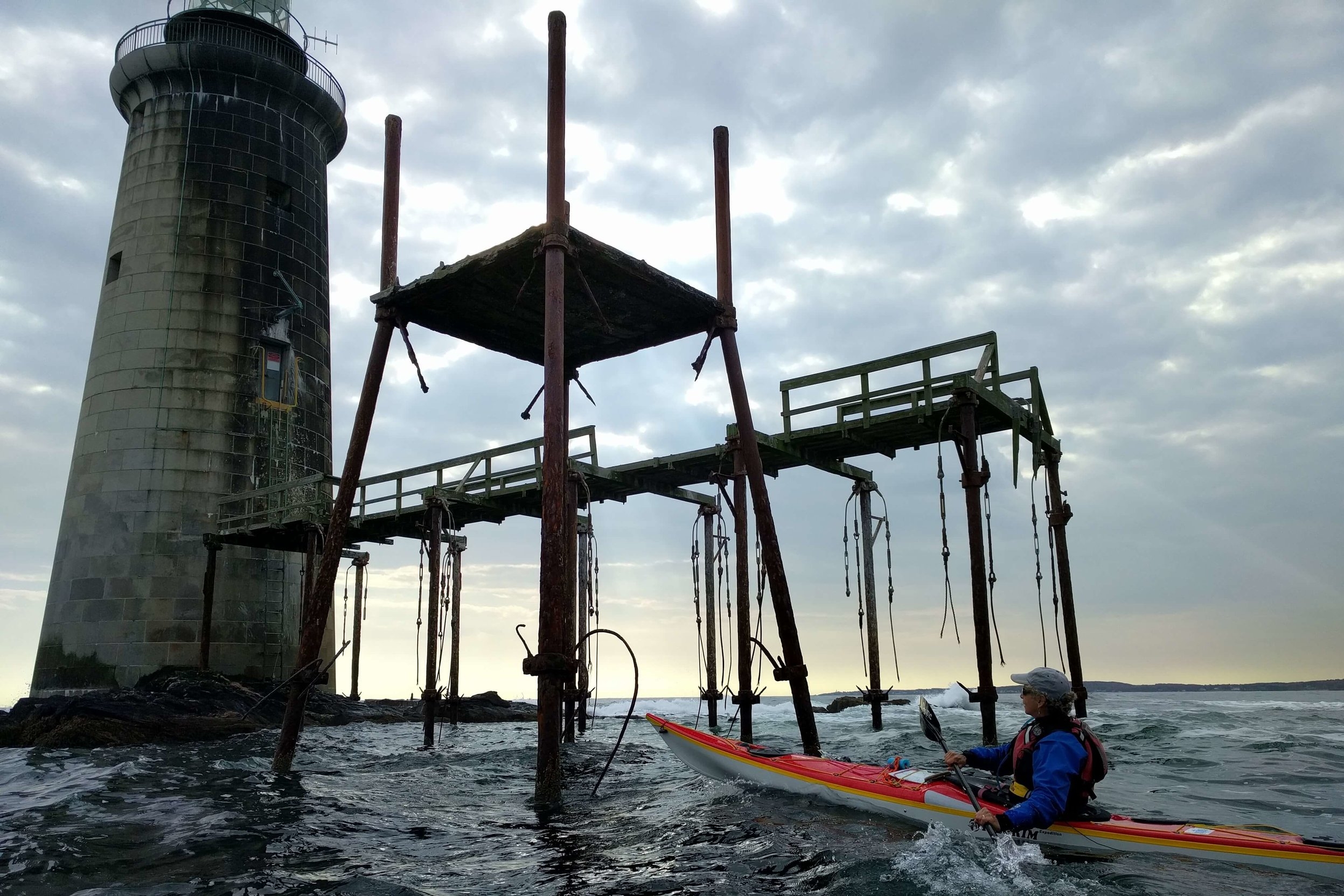 Suzanne fell hopelessly in love with kayaking in 1980. In 2017 she discovered stand up paddle board and now has two favorite ways to play on the water. Suzanne has been guiding and teaching since 1996 and is a certified Maine Guide with ACA Coastal kayak Level 4 and SUP Level 2 Instructor certifications. "Helping someone master skills and gain a sense of comfort and connection with the ocean brings me tremendous joy!" she says. Suzanne finished paddling the entire length of the coast of Maine fall of 2015 and she's hoping to do it again this year!
Abby first came to Maine in 2011 on the final leg of her thru-hike of the 2,100 mile Appalachian Trail, and she hasn't left (for too long) ever since. In addition to her wilderness guiding and backcountry guest service experience, she worked for many years in the environmental policy field. Abby just returned from a thru-hike of the 2,650-mile Pacific Crest Trail. She is a Wilderness First Responder and AIARE Level 1 ski guide.
Ash, our staff manager, became a Maine sea-kayaking guide - trading the land for the sea - after 10+ years of backcountry guiding in Utah, New Hampshire and Vermont while working in the Wilderness Therapy industry. When not at Portland Paddle, she is found surfing, exploring Maine's wild terrain, or working as a therapist.
Joe is a Maine guide and ACA-certified open water sea kayak instructor. He is also a returned Peace Corps volunteer (Zambia 07-09), and a social worker. Joe enjoys bringing people into the marine environment, and he calls the sea his therapist. His favorite place to bring clients is under the Cushing Island Cliffs, where guillemots nest above the open sea.
Calla is a licensed Maine guide and a Brooklyn, NY-native who discovered sea kayaking as student at Bowdoin College. After graduating from Bowdoin she guided sea kayaking trips around Mount Desert Island and in the Jonesport area. Now she lives in Portland and is in her fourth year guiding for Portland Paddle.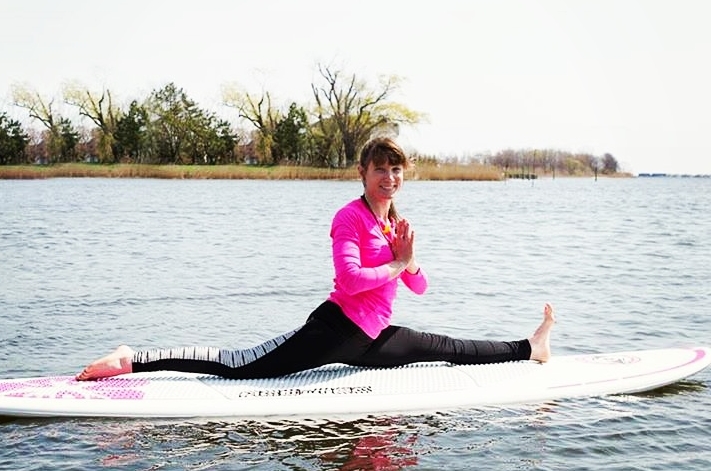 Sarah is paddleboard instructor, licensed Maine Sea Kayak Guide, Yoga teacher and Yoga practitioner of 20 years. She started off canoeing at age 6 and picked up other water sports in her adult years, including paddleboarding, kayaking, and surfing. She is Wilderness First Responder, an E-RYT 500 through Yoga Alliance, and an ASI Level 1 SUP Instructor. When not on the water, Sarah is a horticultural technician specializing in corporate indoor plant installations.
Sarah is an ACA-certified paddleboard instructor from Cape Elizabeth, Maine. Before she joined Portland Paddle in 2016 she worked for our friends at Seaspray Kayaking.
If Tall's not on the water, you can find her in the mountains! Ashley is an ACA SUP Instructor, a licensed Maine Guide, and a certified SUP Yoga Instructor. Born and raised in Maine and living in Portland. When she's not working at Portland Paddle, she loves exploring the coastal and inland bodies of water on kayak or SUP. In the winter you can find her making snow at Sunday River, hiking the mountains of Western Maine, or SUP surfing at Higgins Beach.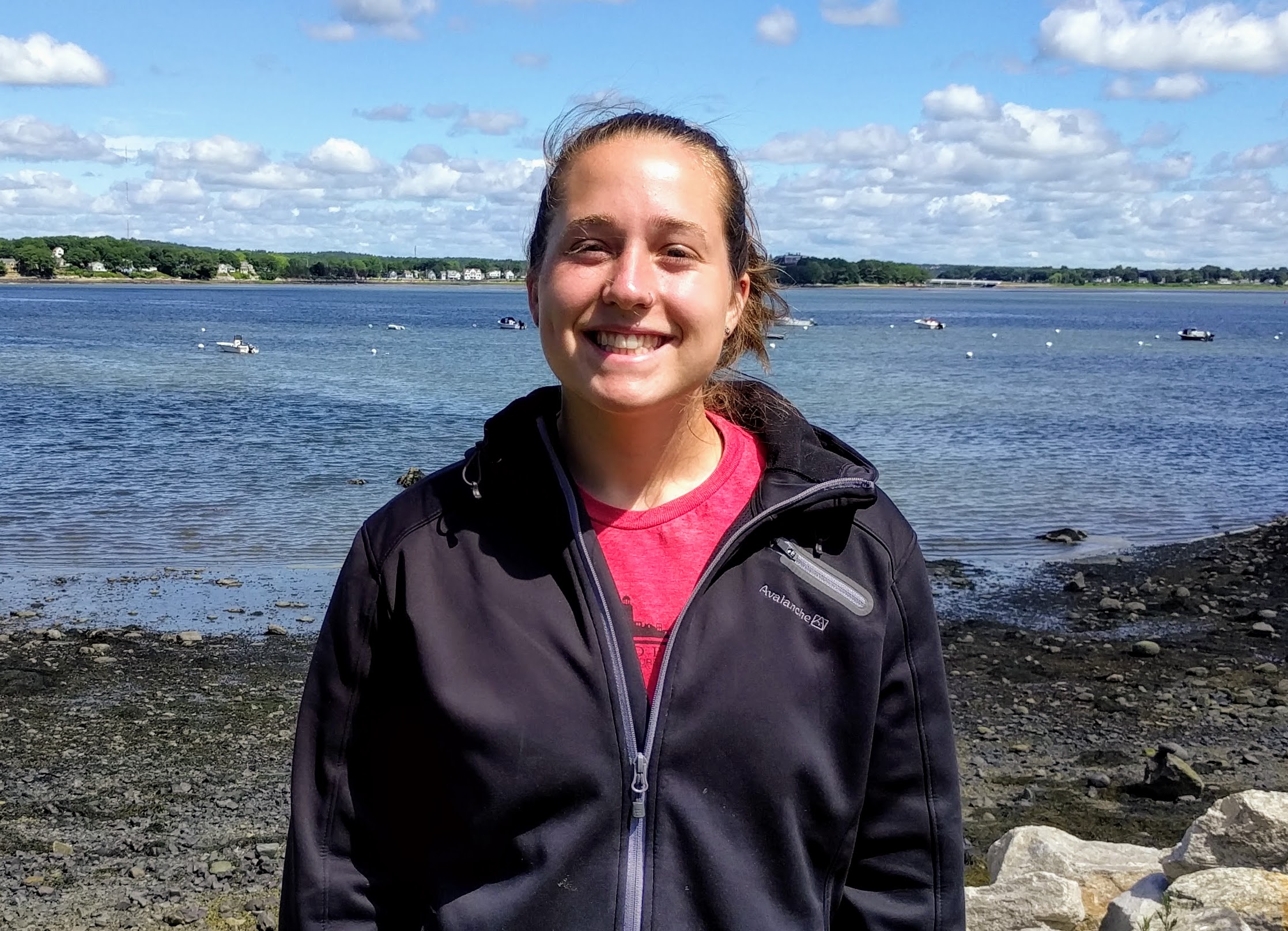 Emily is a Portland native who joined the shore staff team in 2016. She is currently studying physical education at the University of Maine with a minor in outdoor recreation.
Aaron brings over 20 years experience as an experiential educator, Maine guide, executive coach and OD consultant. In 1999, Aaron co-founded the Portland, Maine youth development non-profit Rippleffect, Inc., serving over 5,000 youth and adults in 10 years as director and curriculum designer. In 2009, Aaron joined a team of 7 others on year-long global sustainability pilgrimage called Beyond Boundaries, and in 2014 co-created a geocaching adventure race company called Heroes of Humanity. Aaron is pursuing a Masters in Organization and Leadership Studies at the University of Southern Maine.
A native of Mid-coast Maine, Kyle moved to Portland in 2014. He grew up around the water and as a youth was active in Bantry Bay gig crewing, which allowed him to compete as a rower as far away as Brittany France. Kyle's introduction to kayaking came at a very young age as an
overnight tour participant on expeditions in both Mid-Coast and Downeast Maine. Registered Maine Guide since 2013, he has lead tours all over Maine's rugged coast.
Sam is originally from the Augusta area, and used to paddle the Sheepscot and Damariscotta River watersheds before moving south to attend the University of Southern Maine. After living overseas for a number of years he returned to Portland, and has been a registered Maine Guide since 2016. He is the operations manager for Coria, a technology company, and guides for Portland Paddle in his free time. He loves to explore Casco Bay and is active in the Maine Association of Sea Kayak Guides & Instructors.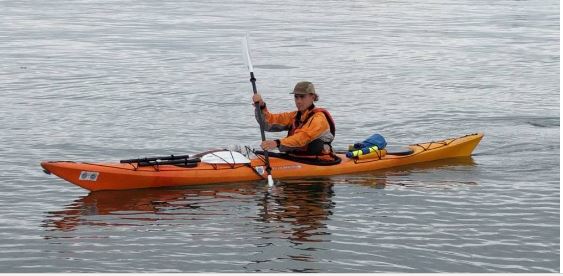 Henry is a licensed Maine sea kayak guide and artist from Wyoming. He started out as guide after he graduated from Bowdoin College in Brunswick. During his first year as a guide he led trips on Frenchman Bay and Blue Hill Bay based out of Mount Desert Island. In 2016 he moved to Southern Maine to join Portland Paddle.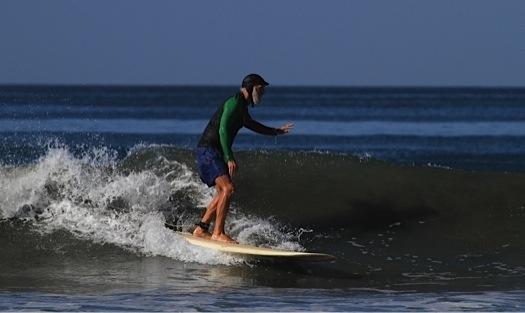 Scott is a Master Maine Guide and is certified by the ACA as a Level 3 SUP instructor. Scott has been passionate about watersports his entire life. He loves sharing his enthusiasm with Portland Paddle customers, and he particularly enjoys seeing them develop confidence and have fun as they push their limits and discover the wonders of Casco Bay. Among his favorite paddling adventures are his circumnavigation of Manhatten Island in New York and his experience SUP-surfing head-high waves in Costa Rica. When not working at Portland Paddle, he can be found surfing at Higgins Beach.
Artie, back in Maine after several years in sustainable agriculture in Boulder, Colorado, lives in Cape Elizabeth and loves exploring any and all coastal waters.
Kerry has been exploring and appreciating the outdoors since her youth and has held several field work, experiential education, and service-oriented positions throughout the years. She has been a staff member with Portland Paddle since 2013 and greatly enjoys paddling Casco Bay and helping others get on the water too. Kerry is the only member of the staff who can give a complete paddling lesson in German!
Josh is a Maine native and a licensed Maine Guide who now lives in Brooklyn, New York. He often returns to Maine during the summers to help his brother, Zack, coordinate Portland Paddle's operations.
Emma grew up exploring the coast of Maine and recently graduated from Scripps College in Los Angeles with a major in international relations. She joined the team in 2018 and can't imagine being anywhere but Casco Bay during the summer. If not out on the water, Emma is reading, running, cooking, or attempting to grow beautiful vegtables.
Clare is a licensed Maine Guide who grew up in Cape Elizabeth. Before joining Portland Paddle in 2014 she guided kayak trips on the Great Lakes.